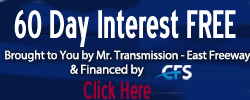 ---
Automatic Transmission Services
Repair or Rebuild Specialist
External Adjustments
Shift Improvement Kit Instalation
Leak Repair
Transmission fluid and filter change
Manual Transmission Services
Rebuild Service
Clutch Replacemant
External Adjustments or
Hydrolic Repair/Replacement
Leak Repair
Fluid Change
Grommet & Bushing Replacement
Other Services we offer
Air Conditioning
Brake Repair
Engine Repair
Tune Up
Scheduled Maintenance
---
We are located at
12344 East Fwy.

HOUSTON, TX 77015



Store Hours
Monday to Friday
8:00 AM to 6:00 PM
Closed Saturday & Sunday
After hours phone service for your convenience


Houston Transmission Repair and Service
We are on a mission to fix your transmission!
FREE Towing
FREE Computer Diagnostic
FREE Road Test
CALL NOW and ask about our
3 year/36,000 Mile Warranty option!
Mr Transmission is a full service repair facility located in Houston, Tx. With a mission to fix your transmission, our company has been delivering unmatched customer service, product quality and transmission assistance for over 20 years. As part of a nationwide franchise of repair shops, we are conveniently located at I-10 and Federal near the east side of Houston. We are well positioned to meet the needs of our clientele. Although we specialize in providing our customers with automatic and manual transmission services, our team of technicians are well qualified to perform a variety of services, including: minor mechanical problems, repairs for air conditioning, reconditioning brakes and tune-ups.
Keeping our company mission in mind, the auto mechanic specialist at Mr. Transmission are dedicated to fulfilling your auto repair needs with excellent customer service with our commitment to customer loyalty and quality replacement parts. We only use top quality O.E. Overhaul Kits which include Borg Warner Clutches, Power National Seals and Sealing Rings, as well as Transgo shift improvement kits and LUK standard clutch kits.
Regardless of how complex you transmission repair may be, Mr. Transmission is committed to provide flexible and innovative service solutions at a competitive price. Our technicians attend transmission seminars and training hosted by A.T.R.A. (Automatic Transmission Rebuilders Association) each year, which enables us to stay up-to-date on all the lastest advances in vehicle technology. It is our expertise in this field, and attention to repair detail that set our company apart from other transmission repair facilities in the Houston area.
At Mr. Transmission, we are available to assist our customers five days a week from 8AM to 6PM. Please call us at 713-455-1780 to learn more about our scope of services, as well as our free towing, computer diagnostic and road testing.
We look forward to serving you!
Copyright 2014 Mr Transmission, All Rights Reserved.